Issue 5
Announcing my new book
Greetings. It has been quite a while since the last issue of this newsletter, and quite honestly I have forgotten where we left off. Some news since I last wrote:
The world has fallen victim to a deadly pandemic

McDonald's has introduced spicy chicken McNuggets

I am publishing my first book, entitled How to Be an Investigative Journalist
It is this last piece of news that is most notable. Many reading this newsletter already listen to Whatever Happened to Pizza at McDonald's? and/or follow me on social media, so you have already heard about my new book. But a few of you are solely "newsletter-heads" who are unaware of my other work. If you count yourself among those, consider this your first indication that I am releasing a book on September 15th, 2020, entitled How to Be an Investigative Journalist.
For more information, please visit the book's official website: HowtoBeAnInvestigativeJournalist.com
There you will be able to read more about the book's premise (it is about how to be an investigative journalist) as well as a sample of the introduction. It will be available in both electronic ("e-book") and physical ("p-book") formats on the website of a Seattle-based business called Amazon.com. While the "e-book" version is exclusive to the Amazon Kindle for the next three months (and will be available to read for "free" if you already pay for a Kindle Unlimited subscription), the "p-book" version will also be sold by a New York City-based business called Barnes & Noble, which will offer it via their internet website or via special order in-store. More details about both these purchasing options will be made available on HowtoBeAnInvestigativeJournalist.com ASAP (as soon as prudent).
I am also very pleased to say that signed copies of the "p-book" version of How to Be an Investigative Journalist will be available exclusively at select independent retailers throughout the United States. Right now, confirmed locations include Nice Price Books & Records in Raleigh, North Carolina, and Floating World Comics in Portland, Oregon. More locations will be added in short order. If you would like your local independent retailer to stock signed copies of the book, please have them contact me at pizzaatmcdonalds@gmail.com.
Finally, I would like to offer some information regarding How to Be an Investigative Journalist that will be shared only in this newsletter. First, allow me to reveal for the first time the full wraparound cover for the p-book version of the book. I think you will agree it is quite beautiful and will make a worthy heirloom to pass down through the generations.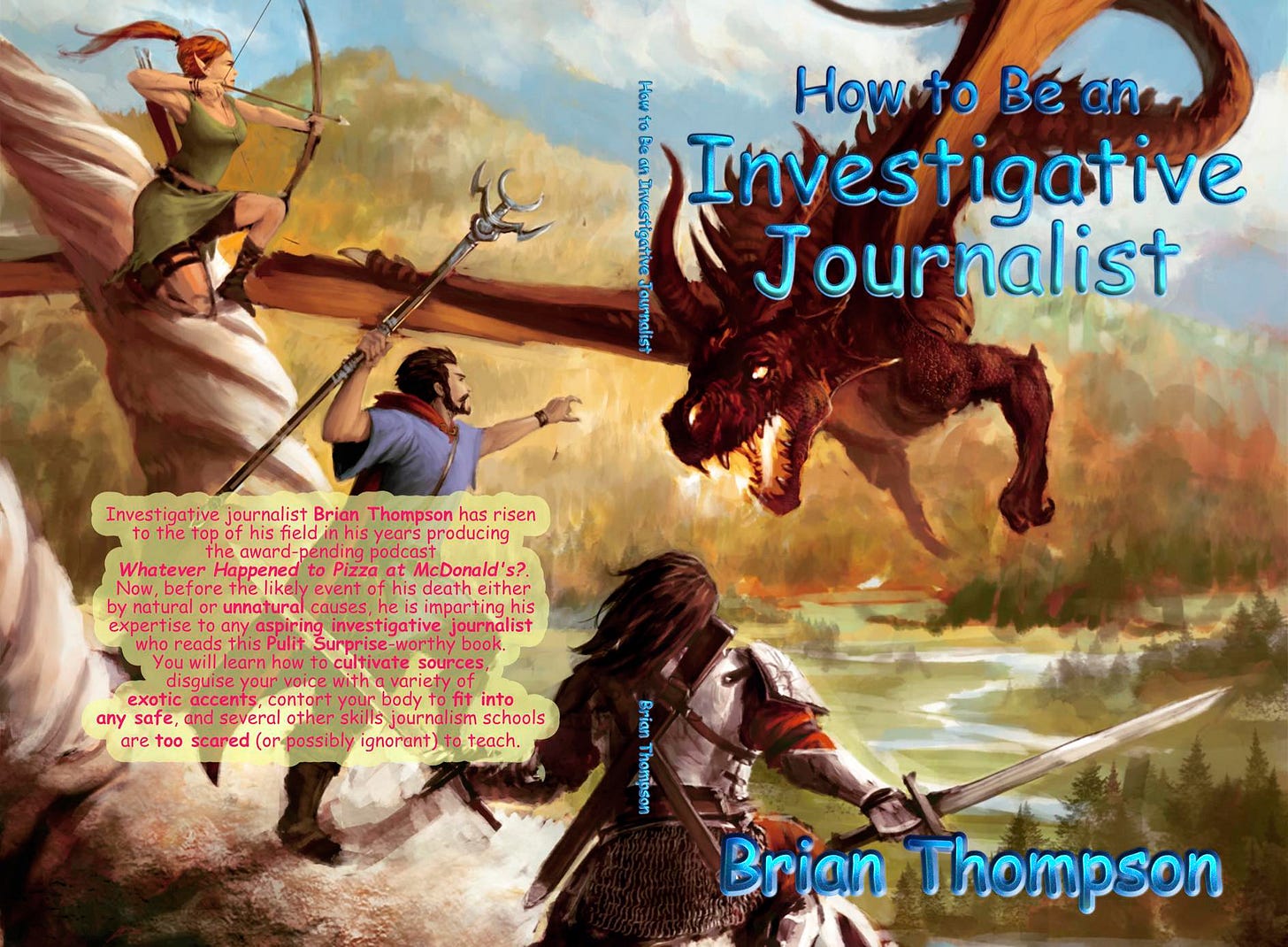 As you can see, the cover art accurately symbolizes the struggles of an investigative journalist.
I also would like to share an exclusive excerpt from the book. This comes from an early chapter entitled What is Investigative Journalism?. I hope you enjoy.
The best way to illustrate the difference between an investigative journalist like myself and a regular person like, for example, you (before finishing this book, of course) is by way of a hypothetical scenario. Let us begin by imagining a fictional character named Rian Jhompson (not to be confused with Ryan Johnson, director of such spectacular films as Star Wars: Jedis and The Bloom Bros.). Mr. Jhompson has become quite disillusioned (almost, you could say, emotionally and somewhat physically "beaten down") by the repeated "dead ends" and outright failures he has experienced in the course of his investigation into why Wendy's discontinued their Super Bar. To take his mind off his troubles and enjoy some much-needed respite by indulging himself in an indulgent fantasy world, Mr. Jhompson visits his local public library to check out a DVD copy of his favorite film: The Beastmaster.

Upon entering said library, Mr. Jhompson proceeds directly to the self-service reference computer. He does this for three reasons:

This particular library threw out their card catalogue several years ago in an effort to save space and "make a buck" selling their card catalogue cabinet to a "kitschy" vintage furniture store.

He does not want to bother a librarian with a query as to the whereabouts of their The Beastmaster DVD since doing so would require the indelicate act of waking the librarian up from her nap.

This hypothetical scenario takes place prior to the era of the COVID-19 coronavirus pandemic, thus Mr. Jhompson has no fear that touching a common-use self-service reference computer keyboard will infect him with a deadly disease.

Upon looking up the The Beastmaster DVD, Mr. Jhompson heaves a heavy sigh of relief, for the DVD is listed as "checked in". However, when he goes to the DVD shelf and searches through the Bs in the "sword and sorcery" section, he heaves another heavy sigh. This heavy sigh is not one of relief but, in fact, the opposite: un-relief. For the The Beastmaster DVD is nowhere to be found.
If you find this "cliffhanger" compelling, you may enjoy the rest of How to Be an Investigative Journalist.
Thank you for your time.
-Brian Thompson
(an investigative journalist)